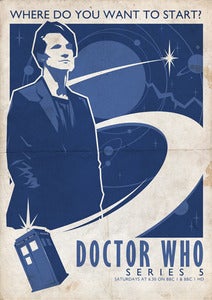 £

14.00
This is the poster that sort of kick started all of my Doctor Who designs.
After watching the opening episode of series 5 of Doctor Who, I rushed straight to Photoshop full of inspiration, locked myself away for a couple of days, and emerged with a poster design!
I went with a Tomorrowland future-ist look to the poster, as it reflected the hope and optimism of the time, mirrored in episode 1 of series 5. I really wanted to capture that style, and I think I did an OK job :) It has since been turned into T-Shirts and Stickers.
Both A2 and A3 sizes are printed on 170gsm Silk paper and sent in a lovely thick cardboard poster tube to make sure they get there safe and sound to you. The A3 size is limited in stock, as it only got one print run.
FREE SHIPPING also applies to this product within the UK! Shipping for international orders will be charged at: 2.00 GBP (Approx 3:00 USD)
-Jonny